National Engagement Event on the EU Soil Mission - Ireland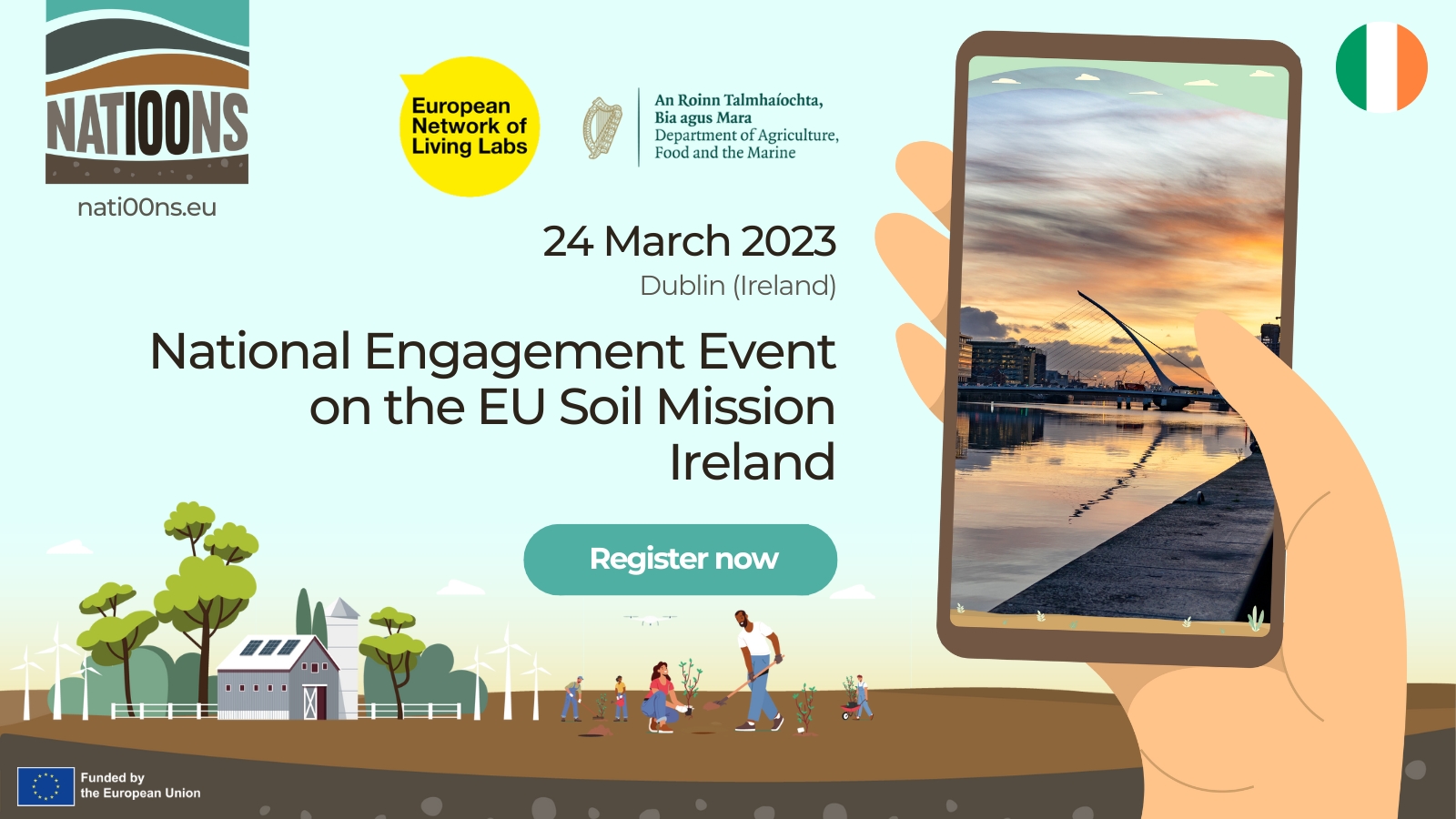 A Soil Deal for Europe: towards the creation of 
100 living labs and lighthouses
Funding opportunities and key aspects of Living Labs creation
Date: 24th March 2023
Time: 11:00-13:00 GMT (12:00-14:00 CET)
Location: Conference Room 5 West, Agriculture House, Department of Agriculture, Food and the Marine, Kildare Street, Dublin
In the framework of the Horizon Europe Programme for Research and Innovation (2021-2027), the European Commission launched the Mission 'A Soil Deal for Europe' aiming to establish and fund 100 Living Labs and Lighthouses to drive the transition to healthy soils by 2030.
The NATI00NS project, funded by the Horizon Europe programme, is running national engagement events across Europe to promote the EU Mission "A Soil Deal for Europe" in national and regional contexts by providing access to quality materials and information, and stimulating discussions on the Living Lab (LL) set-ups to address specific soil needs in different local contexts. Ultimately, the aim is to support regional and national authorities and organisations to apply for the European Commission's calls for proposals on "Living Labs for Soil Health".
ENoLL – the European Network of Living Labs, in the framework of the NATI00NS project together with the Department of Agriculture Food and the Marine of Ireland (DAFM) are organizing the National Engagement Event in Ireland that will take place on the 24th of March from 11:00 to 13:00 GMT (12:00-14:00 CET) at the Agriculture House, in Dublin, with the possibility of online connection.
During the event, we'll explore the value of soil and the challenges for soil restoration in Ireland. Our experts will introduce the concept of 'Living Labs' (LL) and 'Lighthouses' focusing on soil health, as foreseen in the Mission's implementation plan. The sessions are designed to engage participants from all sectors and illustrate the benefits of engaging in Mission activities.
This event is open to any interested party such as researchers, farmers, foresters and representatives of their professional associations, land managers and landowners, spatial planners, food and bioeconomy companies, consumer associations, local communities, educators, cultural and creative industries, citizens, civil society organizations, NGOs, and Irish government representatives.
The Soil Mission is a great opportunity for all Irish entities engaged in or willing to contribute to the transition to healthy soils to maximise their actions and achieve their full potential.
Draft agenda (all times GMT)
| Time | Item |
| --- | --- |
| 11:00 – 11:05 | Welcome - Dr. Karl Walsh, Head of Division, Research, Food & CODEX Co-Ordination, Senior Inspector |
| 11:05 – 11:25 | Introduction and The EU Soil Mission explained – Isabelle Couture, Senior International Project Manager, European Network of Living Labs (ENoLL) |
| 11:25 – 11:45 | National Soil Challenges and Opportunities – Dr. Karen Daly Senior Research Officer in Environmental Science Teagasc, Crops, Environment and Land-Use Programme, Johnstown Castle, Co. Wexford |
| 11:45 – 12:00 | Soil Health Living Labs and Lighthouses and Thematic focus of the 2023 Living Lab calls – Isabelle Couture, ENoLL |
| 12:00 – 12:50 | Engagement session – Isabelle Couture and Dolinda Cavallo, ENoLL |
| 12:50 – 13:00 | Conclusion – Isabelle Couture, ENoLL & Dr. Karl Walsh, Head of Division, Research, Food & CODEX Co-Ordination, Senior Inspector & Dr. Willie Ryan, Agricultural Inspector Research, Food & CODEX Co-Ordination & Horizon Europe National Contact Point |
| 13:00 – 14:00 | Lunch & networking |
National event
Conference Room 5 West, Agriculture House, Department of Agriculture, Food and the Marine, Kildare Street, Dublin