EU Soil Mission event in Israel: Funding opportunities and Key aspects for Living Lab creation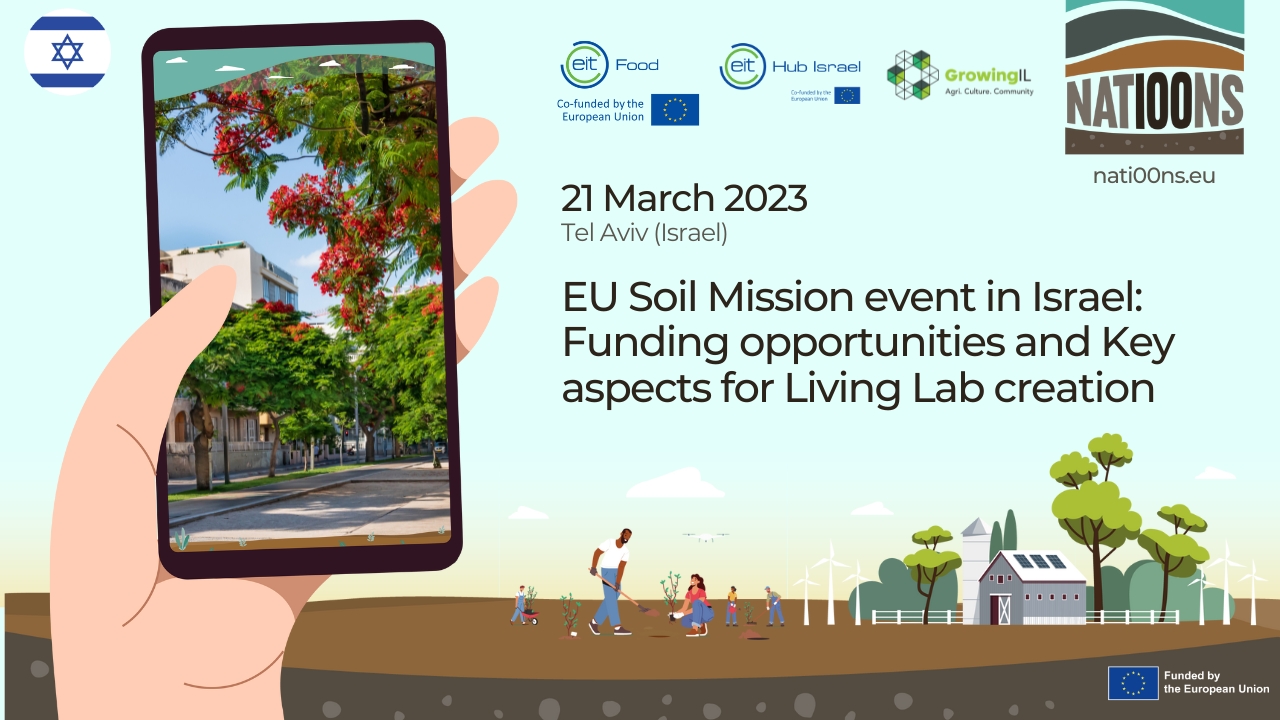 EU Missions are a novelty of the Horizon Europe research and innovation programme for the years 2021-2027. The aim of the Mission 'A Soil Deal for Europe' is to establish and fund 100 living labs and lighthouses to lead the transition towards healthy soils by 2030. The additional funding will help accelerate the implementation of EU Missions and provide a great opportunity for Israeli entities related to soil health to achieve their full potential.
EIT Food, within the framework of the NATI00NS project (https://nati00ns.eu/), together with EIT Hub Israel and Growing.IL organizes this event that took place on March 21, 10:00-13:00 Israel time, at Monday.com.
This event connected and engaged different types of stakeholders involved in soil and land management for different land use types and provided them with the tools and support to apply for and implement soil health Living Labs and Lighthouses.
To whom is it aimed? researchers, farmers, foresters and representatives of professional associations, councilors, managers and land owners, urban space development and land planning specialists, food and bioeconomy companies, consumer associations, local communities, cultural and creative industries, citizens, civil society organizations including NGOs, and government representatives.
Register in our online matchmaking platform to connect with potential partners from other countries to form Living Labs and consortia.
Agenda (Israel time)
Time
Session
10:00-10:30
Networking & Gathering
10:30-10:45

Welcome and introduction to EU Soil Mission open calls

Speakers: Paula Hafner (EIT Food), Maayan Sharon (EIT Hub Israel) and Yonit Tzor (Growing. IL).

10:45-11:15

Living Labs for Soil Health: Expert Fireside Chat

Speakers: Melissa Comellas (EIT Food) and Eric Benmeir (Migal Research Institution).

11:15-11:30
Coffee break
11:30-12:00

Navigating EU funding: Experts' insights on Soil Missions

Speaker: Asaf Aharon (ISERD), Living Lab success story, and Idan Kopler, MIGAL Galilee Research Institute.

12:00-12:15

NATI00NS supporting tools

Speaker: Paula Hafner (EIT Food).

12:15-12:50

Engagement session: intro & Q&A round tables

Representatives: EIT Food, ISERD, EIT Hub Israel.

12:50-13:00
Next steps & farewell
National event
Monday.com, Tel Aviv, Israel & Online